WHAT ARE THE CHANGES TO FORM 941 FOR THE Q2 & Q3
OF 2022?
The IRS proposed the following changes to Form 941 for the second and third quarter of 2022:
Lines 11e, 11f, 13f, which have been used to report COBRA Premium Assistance Credit are "Reserved for future use". The tax relief programmes established by the American Rescue Plan Act will continue to expire in the second and third quarter of 2022, and these changes will be reflected on Form 941. As a result, for the second and third quarter of 2022, the COBRA Premium Assistance Credit will be unavailable.
The fields on IRS Form 941 have been updated to accommodate these changes, all employers should use the revised Form 941 to file for Q2 & Q3.
How do I correct errors on Form 941?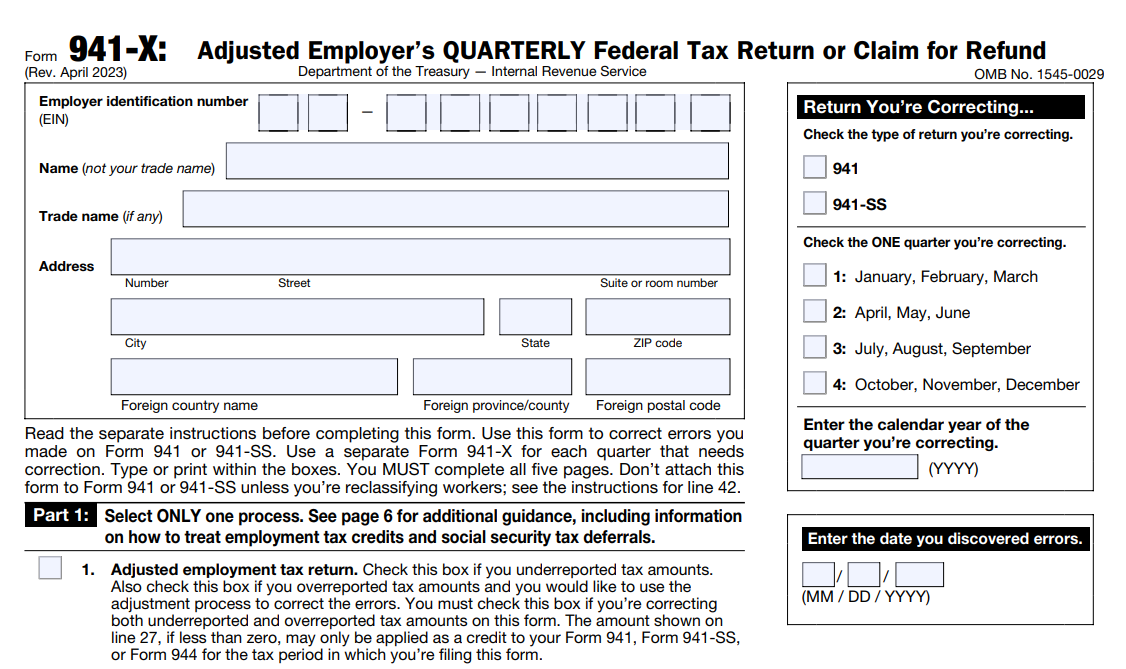 The IRS Form 941-X Adjusted Employer's QUARTERLY Federal Tax Return or Claim for Refund, is used to correct errors on Form 941 and Form 941-SS. The following arrows can be corrected using this Form,
Overreported taxes - If reported more tax amount than the actual tax amount.
Underreported taxes - If reported less tax amount than the actual tax amount.
Learn more about Form 941 correction.
Why do Employers need to
File Form 941?
The IRS requires every employer to report quarterly federal taxes by using Form 941. Employers use this form to report their withholding amounts for federal income taxes and FICA taxes (Social Security and Medicare) from employees paychecks along with the employer contribution.
Visit https://www.taxbandits.com/form-941/what-is-form-941/ to learn more about 941 Form.
It's easy to meet your mandate Quarterly Filing requirements with our e-file software. Electronically file your 941 Form to the IRS in just a few minutes.
What is Form 941 Worksheet and why should you complete it?
Form 941 Worksheet is used to calculate the qualified sick and family leave wages and employee retention credit.
IRS revised Form 941 Worksheets for the 2nd, 3rd and the 4th quarter of 2021. According to this, for calculating the employee retention credit on wages paid after June 30, 2021, the 941 Worksheet 4 is used for the third and fourth quarters. Other than these, Worksheet 1, Worksheet 3 and Worksheet 5 are added for the remaining quarters of 2021.
Visit https://www.taxbandits.com/form-941/941-worksheet/ to learn more.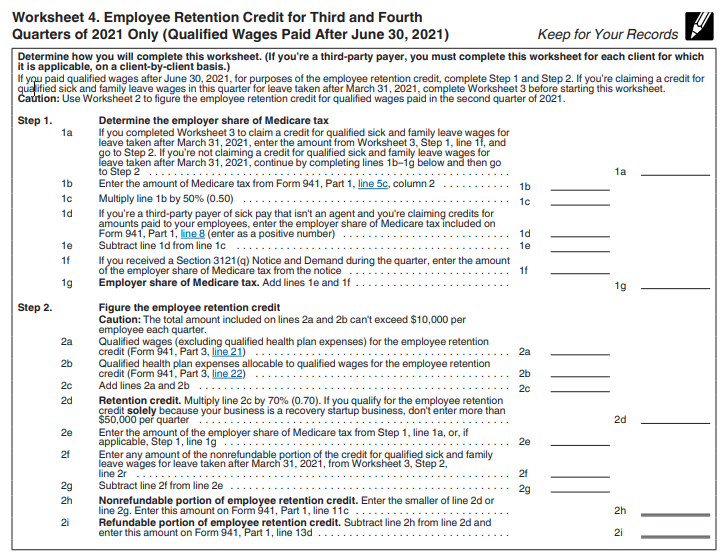 ---
What is the purpose of Schedule B (Form 941)?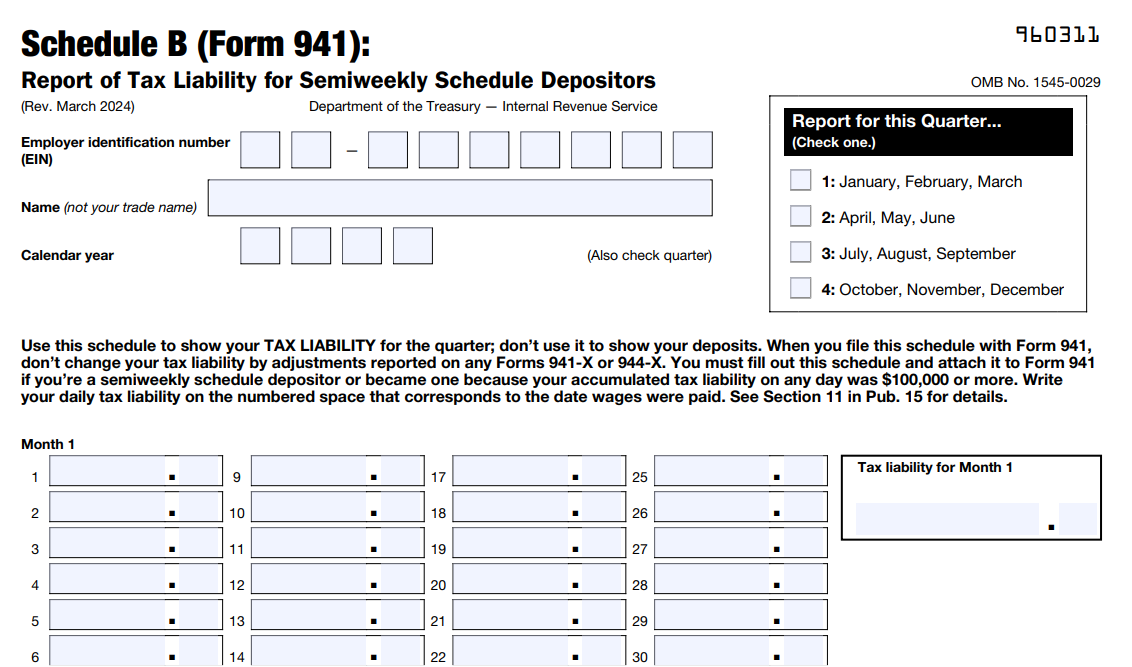 Schedule B should be completed and submitted with the IRS Form 941 if you're a semiweekly depositor. It is used to report the tax liability for semiweekly pay schedules. If you satisfy the following conditions, you are liable to complete Schedule B (Form 941):
Your employment taxes are greater than $50,000 in the prior lookback period.
Your tax liability is greater than or equal to $100,000 on any given day in the current or previous calendar year.
Learn more about Form 941 Schedule B.
AN EASY TO USE SOFTWARE TO FILE 941 ONLINE
File941online.com is one of the IRS Authorized e-file provider to
file 941 forms directly with the IRS. With our cloud-based software, you can prepare, review & file your form 941 from anywhere at any time. And your 941 form will be reviewed for any errors before it gets transmitted to the IRS ensuring you that the form is error-free. Also, our US-based customer support team is available via phone, email, or live chat to provide you with the assistance that you need during the filing process.
Start filing now, pay only when you are ready to transmit your return to the IRS.
OUR E-FILING SOFTWARE ALSO SUPPORT
Payroll Forms - 941-PR, SS, Schedule R and Form 940
Form 1099 Series - Form NEC, Form MISC, Form 1099 K, INT, DIV, B, R, S & Correction
ACA Forms - 1095-C & B, 1094-C & B
Tax Extensions - 8868, 7004, 4868, 8809
How our Software makes your 941 Online Filing Hassle Free:
Everything you need for your 941 filing. With our software, you could be able to do a lot more which simplify your 941 filing.
Our software provides you everything required for filing your Form 941. File your 941 online in just a few minutes without any trouble. We make it easy for you!
What information required to file 2021 Form 941?
In order to complete the 941 forms, you need the following basic Information listed below to
file form 941 online: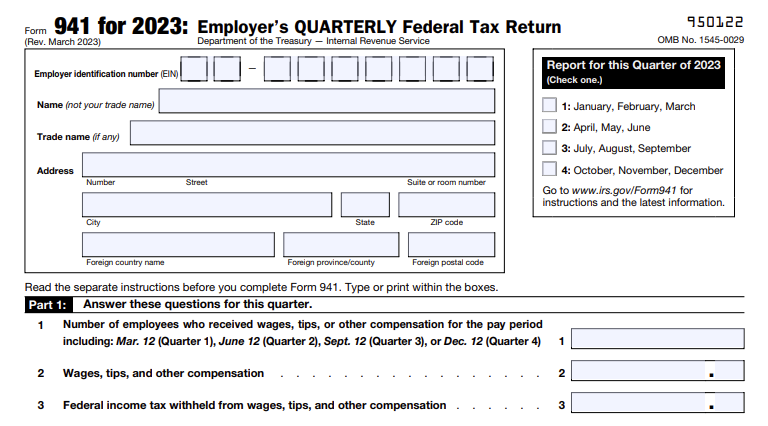 ---
HOW TO FILE 941 ONLINE for 2022?
Only 3 simple steps to get instant IRS Approval
Step 1.

Choose Tax Quarter and Year

Step 2.

Enter Form 941 information

Step 3.

Review and Transmit Form 941 to the IRS
Start E-filing your Form 941 and Get Instant Approval from the IRS.
When you can file your 941 form online in just a few minutes, never worry about waiting in long queues for paper filing your returns.
E-filing of 941 can be done at just $4.95/return.
HOW TO AVOID FORM 941 PENALTY?
Penalty! As an employer, you would never want to hear about penalty from the IRS. Here are the few points that would help you avoid form 941 penalty.
If you are filing Form 941 late, then the IRS might impose a 5 percent of penalty, with a maximum penalty of 25 percent. You can avoid paying penalties and interest to the IRS with help of the following instruction.
Deposit or pay your full amount of taxes when they are due.
File your quarterly tax Form 941 on time.
Accurately report your tax liability on your Form 941.
Get rid of the 941 penalties by filing your Form 941 on-time.
Click here to learn more about Form 941 Penalty
Contact Us
If you need any assistance while Filing your Form 941 contact our awesome US based support team .

EMAIL

PHONE NUMBER
Helpful Resource for IRS Form 941
<